Seeking and Using Wild Plants in Our Local Forests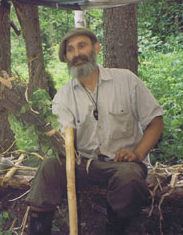 August 4 – 6, 2012
With MORS KOCHANSKI, the "Wizard of the Woods."  A [long] WEEKEND WORKSHOP at BOREALIS, near Edson, AB.
This workshop was about the collection and preparation of edible plants from our own local forest areas.
Mors demonstrated how to identify a variety of plants and mushrooms, including wild medicinal herbs and psycho-stimulants. He also took guests through the basics of modern wilderness survival.
Known as the "Wizard of the Woods", Mors Kochanski is a an author, researcher and world-renowned outdoor survival expert. He has taught bushcraft and survival skills for over 30 years.
Guests at the workshop also enjoyed:
A stay at the Borealis campsite, with outdoor cooking
A campfire demonstration and native arrowhead-making
Making their own camp utensils