GENERAL AGENDA:
SATURDAY
10:00 am – Begin with tour of the Chicken Greenhouse
Then tour of the solar straw bale round house
12:30 pm – Lunch – Sandwiches and some veggies
1:30 pm – Overview of type of clay oven we are building, steps in its construction
2:00 to 6:00 pm –  HANDS ON: follow through with the first step of clay oven
construction.
6:00 to 8:00 pm – Break for supper. On site firepit will be available for on site
campers. Evening social will carry on until 10 pm with an open discussion/
question period on the topics of your choice.
SUNDAY:
Morning: The morning will start off with a discussion about Permaculture
before we resume work on the clay oven.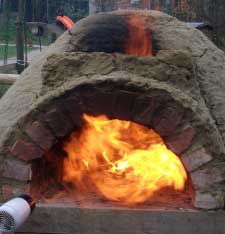 12:30 to 1:30 pm – Lunch; sandwiches and veggies
1:30 to 6:00 pm – work on the clay oven to completion
6:00 pm – Potluck Supper Outside, firepit will be available for cooking