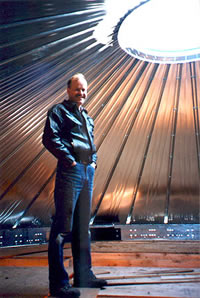 Straw Bale Building Workshop
September 11, 12 and 13th, 2015
Sherwood Park, AB
With Paul J. Belanger, eco-designer
Guest presentation by Kenton Zerbin
Workshop fee: $235/person or $400 for couple or two friends. Low income price is 15% less. Lunch and beverages provided Saturday and Sunday.
Space is limited.
To register call (780) 723-3533.
Weekend workshop will feature both classroom time and "hands on" construction. We will be training on a straw bale sauna at Cabine Soliel near Cooking Lake (25 min South-East of Sherwood Park).
Workshop Topics
Straw bale building details for Alberta's climate.
Adding passive solar heating for your design
How you can reduce building costs
Discussion of the tiny house approach and other alternative housing strategies
Hands on work will include straw bale install and stucco plaster work on walls
Experience with a "living roof" design
Workshop Schedule
Friday:        6 pm to 9 am
Saturday:   9 AM through to 5 PM small social in the evening
Sunday:      9 AM through to 5 PM
Friday Evening
On Friday evening there will be a causal social and open discussion. This starts any time after 6 pm.  For those who cannot make it Friday evening, any important information discussed will be repeated on Saturday/Sunday.
Saturday
This is mainly a classroom day. We will break from sitting and work on the straw bale sauna for a short while. In the evening we will have an informal social and discussions.
Sunday
We will work directly on the straw bale wall. Most of our hands-on work will include lathe and stucco preparation and application of lime/cement plaster. Formal wrap-up will be 5:00 pm.
Lunch is provided on Saturday and Sunday (items for both for meat eaters and vegetarians), including coffee/tea.
What to Bring
Gloves and a hat
Work clothing
Your own coffee/water mug
Note pad, pencils, and camera
A small amount of apple cider vinegar for your hands when plastering
Drinking water (we will have some on hand, but you can bring some of your own)
Work tools (optional): tape measure, hammer, tin snips, trowel for stucco. We suggest not bringing power tools since they may be damaged by sand/cement or lost in the straw.
Travel Accommodations
For non-local workshop attendees it is possible to put up a tent at the workshop site, which is on a large acreage.
Directions to the Workshop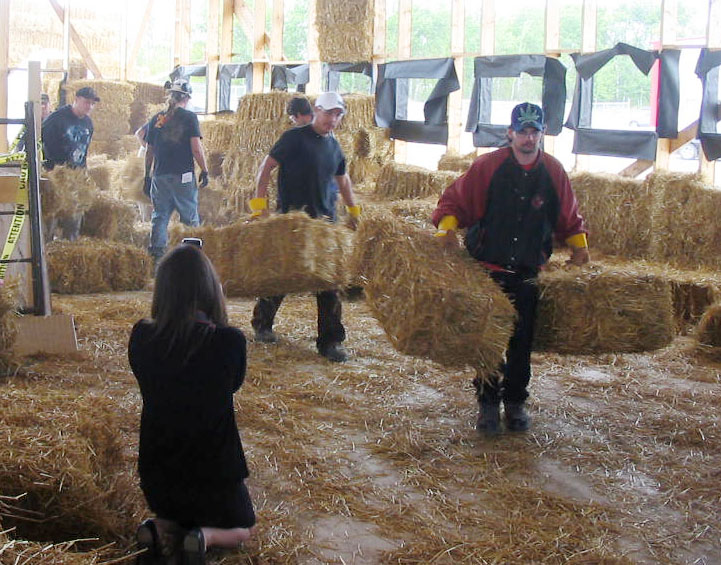 >>>  REGISTER NOW <<<